Junior Tennis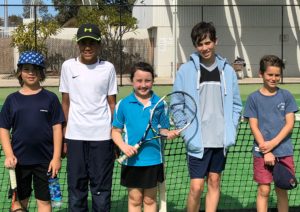 Our juniors are valued members of our Tennis Club. Many of our current adult members began their tennis playing days as juniors here. Junior Club along with coaching is a great way for our younger players to develop their skills both socially and on the tennis court and also increases their understanding of the game of tennis.
Junior Social tennis: Friday evenings from 6.30pm – 7.45pm during school terms 1,2 and 4 (not during winter months)
All junior members are welcome to play for a nominal fee ($2). Non-members can also play for a fee of $5 per week.
At the end of each term we have a wind up night with plenty of food and all the family is welcome.
During the warmer months we regularly hold family friendly events on Friday evenings with social play and food provided.
Competitive Junior Play
Both boys and girls are able to play competitive tennis on Sunday mornings during both summer and winter. Our club participates in the Tennis West league which offers a range of divisions, age groups and playing abilities.
Junior Tournaments